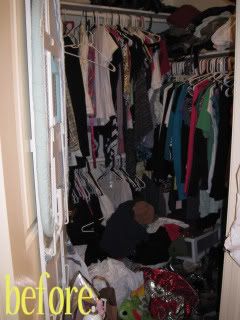 This walk-in closet in Sally's master bedroom, was not so walkable. I spent 4 hours on matching shoes, consulting with Sally and purging items that she no longer wanted, color coordinating, and sorting. The result was well worth the time! On Monday morning Sally can get ready for work without leaning in or stepping on the clutter.
Sort like with like: I choose to organize the closet by sectioning off what is casualwear and what is workwear. From there the clothing is sorted into long sleeves, short sleeves, tank tops, skirts, pants, etc. By sorting like with like you will save time in the morning and be able to see what you have as if it was in a department store.
Ease your frustration in the morning, line up all your shoes by category: athletic, boots, heels, flats, sandals, flip flops and so on. It will be easier to dress for every occasion, I promise :]
While casualwear and workwear is hung, usually drawers are left for undergarments, gym clothes, and pajamas. In this "before" picture, I couldn't exactly get in the closet to take a full shot of the drawers. After: spic and span! The labelmaker was perfect for marking "gym clothes" "pajamas" "winterwear" and so on.
And now the closet is usable and purposeful again! ♥